Dropdown Articles is a free module available for all versions of Joomla, licensed under GNU GPL v2.
As the name might suggest, it's a fairly basic module that shows articles as a dropdown list.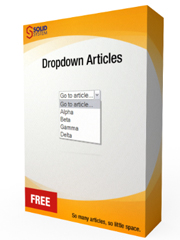 Listed articles can be restricted to one or more categories. Article ordering is selectable.
Falang / Joomfish compatible, core SEF compatible and sh404SEF compatible.