Custom Properties
A good way to organize content
Organizing content by rigidly putting it into one section and one category, as many Joomla users know, can be a limit.
The majority of entities belong to many categories at the same time. Take an apple for example. Using the standard Joomla! category system, it could be filed under food > fruit.
It's safe to say that a person would describe an apple with many more attributes, practically assigning tags to the apple object.
Tags are nothing new on the web and Joomla! has its choice of good tagging componenents. The only limit with standard tags implementation is to search combining more criteria. In fact one can only click one tag at a time.
Custom Properties - beside showing tags as a cloud or under the article - automatically builds an advanced search module where the user can combine more criteria and filter the content accurately. Therefore it becomes possibile to search with more tags at once. There are many more features like creating a result summary, generating images thumbnails, limiting the scope of the search or tagging other content elements such as events, video and docman docs.
No suprise that Custom Properties has been downloaded and installed on thousands of websites. It's particulary suited for websites offering listings of products, travel agency, real estate & rentals, reviews, job listing, events listings. Great care has been put on making CP internationalization friendly, therefore it supports UFT-8 tags and urls and it's compatible with JoomFish. In fact we've seen it installed on website with the most exotic charsets.
Try our live demo to see if Custom Properties is the right choice for you.
Custom Properties 3 includes most of the requests we received from users from the release of its successful predecessor, and it's the only actively developed version. It's a rewrite of Custom Properties 2.0 that takes advantage of the latest modifications of Joomla 3.x platform
Read more...
The following is the list of supported content elements type.
Last Updated on Thursday, 04 January 2018 12:17
Read more...
Custom Properties Requirements
Custom Properties 3 for Joomla 3.x
Apache 2.x
PHP 5.3.1 +
MySQL 5.1 +
Joomla! 3.x [tested up to Joomla 3.1.5]
PHP GD Libraries, for image thumbnail creation
Read more...
Installation
There are two methods to install Custom Properties:
Install all at once:
download the installer zip file, that contains the component, the modules and the plugins
use Joomla! extension install function : Extensions > Install / Uninstall.
after the installation, review and save CP parameters: Components > Custom Properties > Config > Save. This is *important*. Do not skip this step.
done
The installer will also enable the plugins, install JoomFish content element end third party content element.
Read more...
Foreword
The following procedures can differ slightly from version to version. Some features are available only in the most recent packages.
Basics: create a custom property
This is the first step. Before start assigning tags, they need to be created.
Extensions > Custom Properties > Manage Custom Properties

Click "New"

Enter the field name (no strange chars here) and the field label (any charset is OK). Select the field type and make it "Published". Click "Apply"

Click "Add Value"

Enter value name (again, no strange chars) and the value label.

Repeat steps 4 and 5 to enter mode values

Click "Save"
The first custom property is ready to be assigned.
Read more...
Search scope
Custom Properties allows a fine grained control of the search scope at component and module level. Being able to restrict the search scope at module level makes possible to have several thematic search modules in the same website.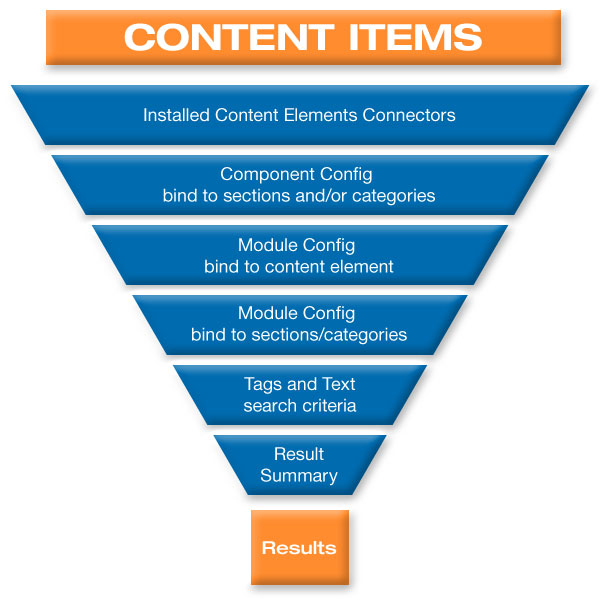 How custom properties fields are evaluated
General rule: different fields are evaluated with an AND condition; different values of the same field are evaluated with an OR condition.
Example
We run a wine reviews site. To tag our wine reviews articles we set up 3 custom properties fields fields:
Color, type select; values [red, white, pink]
Alcohol, type select:values [low, medium, strong]
Country, type checkbox: values [a long list of countries]
Combining search field NARROWS your search. The illustration below shows a search with Color: [Red] and Alcohol: [Low]. The result will be limited to articles about [Red] wines with [Low] content of alcohol.
You can also BROADEN your search by select more than one value from the Country field. Results will be expanded to include wines tagged with ANY of the countries you selected.
The illustration below shows a search with 3 countries selected [Italy], [Spain], [France].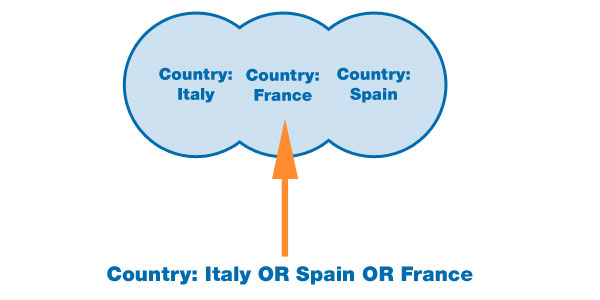 Content Element Connectors
CP content elements connectors are XML files , that tell CP how to handle a generic content item. Without any content element, CP falls back to standard content items (articles).
Content elements files are contained into administrator/components/com_customproperties/samplece directory. To write your own contet element connector just take inspiration from the existing CE files and replace the field names with the actual ones of content item you are mapping.
Content elements can be uninstalled and uninstalled using Components > Custom Properties > Utilities > Manage content elements.
A note to fellow developers: starting from Custom Properties 2.1 for J1.6 - J2.5, content element connector supports JSON fields, using the following notation: databases_field_name.json_field_name.
E.G. images.image_intro
where 'images' is the name of the field in the db table and 'image_intro' is the name of the field in the decoded JSON object
Warning: installing content elements of non-installed components causes Custom Properties to crash.
Style
The component and the modules have been developed to allow the styling with CSS2 style sheets, so that you can easily merge them into your site.
CPsearch module layout (table/div) can be set with module's parameters. Table layout renders properly with all templates we tried but it's a little "stiff" you want to customize its appearance. On the other hand Div layout let's you do "magic" but some CSS wizardry is likely required.
CPcloud and CPmenu modules come with their own style sheet, that can be disabled in module config.
Date Range Search: "Event Mode"
Starting from Custom Properties 2.0, it is possible to search content items in a delimited period of time. Enable this feature by setting 'Search by date range' to yes in CPsearch module configuration.
We consider the 'created date' as the beginning of the event and 'end publishing' as end date of the event. By means of the two calendar controls at the bottom of the search module (see picture), you are able to set the start-from and end-to date you your search. All articles that has one date within the search range will be returned. The illustration that follows show the concept.
If the start date is omitted, Custom Properties will use today's date. If the end date is omitted CP will use infinity. It's possible to configure the module to require always both dates.
Date Range Search: Standard Mode
Starting from Custom Properties 2.1 a more conventional date range search is available. It retrieves only the articles whose ''Created date' is comprised between a given 'start date' and 'end date'. This function is controlled by parameter [Use 'Event mode' to search by date] in CP config.
Frequently Asked Questions
Presale
What is the license for Custom Properties?
All versions of Custom Properties - including v 2.0 - are released as Free Software under the GNU GPLv2 license.
Why some versions are on sale, if it's free software.
Free software means you can do almost anything with the software: copy, modify, install many times on different sites, etc. We decided to charge a fee for downloading the latest versions of Custom Properties because developing, testing, maintaining ad supporting a software costs time - a scarce, non renewable resource.
Can I use the copy I purchased on more sites?
Yes, of course. You are free to install Custom Properties wherever and whenever you like.
I had a problem during the download / I lost the files of CP. Can I download them again?
Yes. By following the link of the order confimation email you can download and re-download the files up to 50 times or for 12 months after the purchase, whichever expires first. Alternately you can login and visit the Member Area.
Is there any form of warranty ?
No. Custom Properties is provided "as is," without a warranty of any kind. All express or implied conditions, representations and warranties, including any implied warranty of merchantability, fitness for a particular purpose or non-infringement, are hereby excluded. Solidsystem shall not be liable for any damages suffered by licensee as a result of using, modifying or distributing the software or its derivatives. In no event will Solidsystem be liable for any lost revenue, profit or data, or for direct, indirect, special, consequential, incidental or punitive damages, however caused and regardless of the theory of liability, arising out of the use of or inability to use software, even if Solidsystem has been advised of the possibility of such damages.
Can I try Custom Properties before I buy?
We set up 4 different demo servers to let you test drive the latest versions of Custom Properties. You can also download and install Custom Properties 1.98 for Joomla 1.5 and test it on your own server before purchasing version 2.0.
How do I get support?
Support is mainly provided via the Support Forum on a best effort basis. Priority is given to customers who got the commercial versions of our software. Dedicated support, installation, configuration services is available at standard fares.
Is there any money-back-guarantee?
Our software is licensed under GPL, therefore you are not paying for the software itself but you are contributing to our efforts with a distribution fee. It means that, as you long as you receive the software, the contract between seller (us) and buyer (you) is fulfilled, so no, legally there's no money back guarantee.
Before committing any money we warmly recommend you to evaluate carefully our products using the demo sites. Feel free to ask questions if you are not sure about our products.
Anyway, if you feel you haven't got what you paid for, or something went wrong please contact us using the contact form within 30 days from the purchase. We will review your case and - if no other solution can be found - we will refund you.
Will I get the updates?
Updates will be available within the Download Area for 12 months after the purchase.
End FAQ
Technical
How heavy is Custom Properties with server resources?
We put quite effort into optimizing CP and making sure no computing cycles were wasted in useless / redundant operations. Usage of CPU and memory resources is fairly light. DB load and memory usage can be significant. The actual server load is influenced by many factors: configuration of Custom Properties, number of content elements installed, Joom!Fish presence.
While we've never been able to cause resource problems on our servers, we received a few reports (actually 2) that Custom Properties with full features + modules + plugins + JoomFish + several content elements + many custom properties fields gave DB problem to a resource-strapped server.
Is Custom Properties compatible with extension X?
Custom Properties 1.98 for J1.5: bookliibrary, docman, phocagallery photos and categories + JoomFish
Custom Properties 2.0 for J1.5: bookliibrary, docman, phocagallery photos and categories, eventlist + JoomFish
Custom Properties 2.0 for J1.6: phocagallery photos and categories. At the time of release some extensions are not yet available for Joomla 1.6 / 1.7. We count on adding support for those extensions as soon as technically feasible.
Custom Properties can be made compatible (as in being able to tag and search) with other components by means of Content Elements Connectors located in administrator/components/com_customproperties/samplece. We are available to assess feasibility and develop content element connectors.
Can Custom Properties be modified?
Yes, sure. We don't use any form of encryption or obfuscation in CP source code. The GPL licence entitles you - or a subject of your choice - to make any* modification to the source code.
* Please note that we retain the copyright for our software, and you may not remove copyright information without permission from us, nor resell it as proprietary software.
About Custom Properties 1.98 and SEF
Making the package Search Engine Friendly has been one of the most time-consuming and frustrating job of the 1.98 release. Many things have to be considered: internationalization, third party components, native sef. This is the current situation:
The component can write tags in two ways:
tagID=number. The traditional way. Non very SEF, but very resilient to internationalization issues.
tagName=field_name:field_value .The new way. Improve SE friendliness, together with the enclosed router and sh404plugin generates SEF urls.
Module cpsearch does not generate SEF urls, and never will. There is no point in making the query generated by a search engine SEF, if at all possible.
Module cpcloud does write SEF urls.
As said above, the component features a core-sef router and a sh404SEF plugin. There are small issues with bot:
sh404SEF does not generate working pagination links under CP results. We gave up trying to fix this problem . We hope on some improvements from sh404 developers on this matter.
core sef works fine in every condition but it appears to have glitches when Itemid is in the url.
The current version of CP has been tested with JoomFish ver 2.0.1 and sh404SEF ver.1.0.19_Beta.
We do not have an easy recipe to fix every problem. You need to experiment and find the best solution for your site.
End FAQ
Custom Properties for Joomla 1.6 - 1.7 - 2.5 Changelog
Read more...
Changelog Custom Properties 3.x